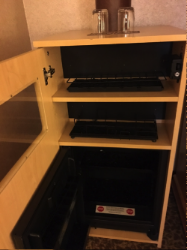 Mar 10, 2016 4:15:44 PM
I checked into my HiMSS hotel Monday afternoon, a perfectly nice place and no complaints throughout my stay. But one thing was amiss:
This is a picture of my mini-bar on Day 1. I thought Vegas would not miss an opportunity to gouge me at every turn, so I was a little disappointed. And also, because I am a true snacker at heart and even though I may not have taken anything, I like the option of a Toberlone or miniature can of Pringles on a whim. Was this a sign of things to come?
Read More
---
---