There are some that do it average, some not so well, and those that do it exceptionally well. Retailers that are experiencing growth year after year and are able to compete with Amazon are the ones that are doing it exceptionally well.
So if you are not labeled as one of the exceptional, you may ask yourself, what's their secret?
Doing things differently is what really sets them apart. According to Retail Systems Research, these retail winners are operating more than four brands or sites online, a mobile site, and are selling on social media platform such as Facebook. They understand that the days of operating as a separate entity within an organization are over.
Competition is fierce and in order to be able to compete, retailers are investing in cross-channel capabilities because that can be a real and differentiating strength from etailers such as Amazon. However, this is not an easy feat. One of the top operational challenges is their ability to coordinate with other channels to create a seamless brand experience.
So what's the reality?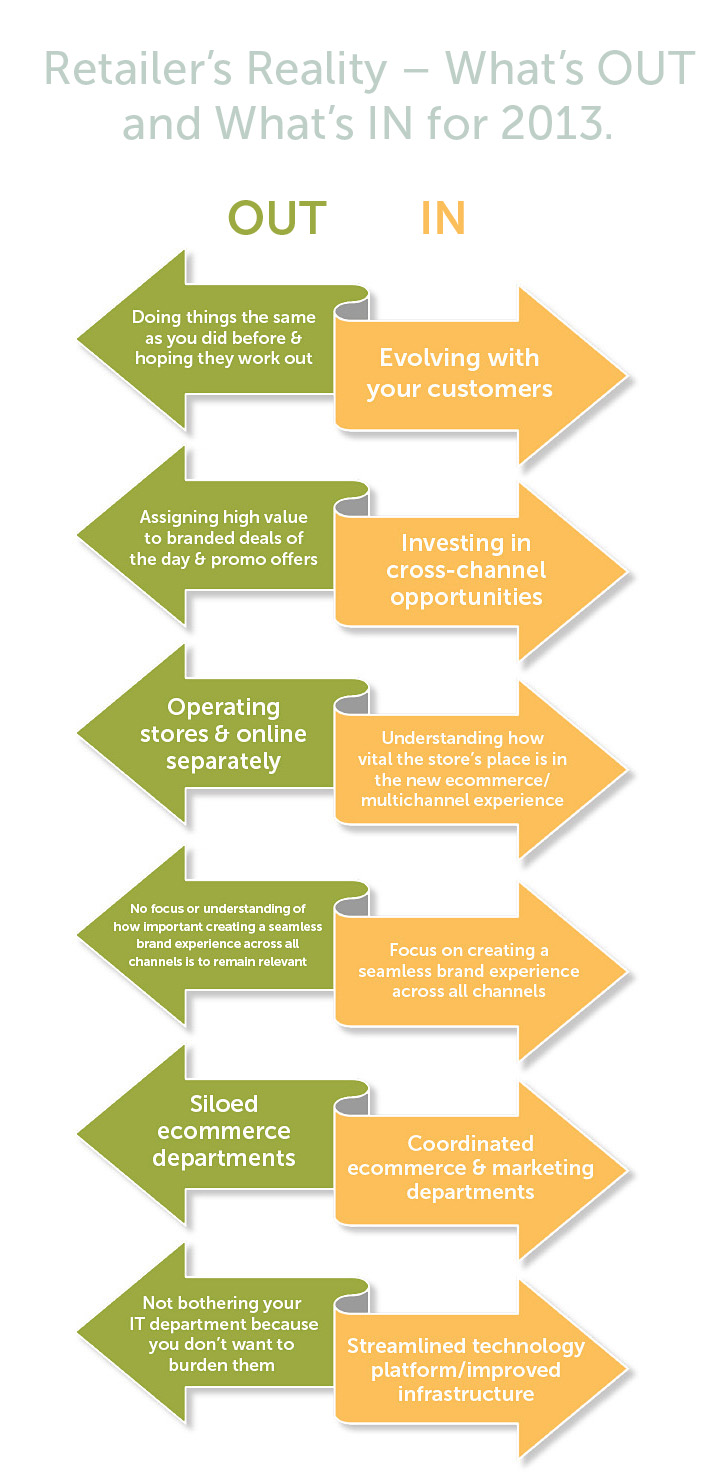 In sum, the key takeaways for what's in for 2013 is; 1) evolving with your customers, 2) investing in cross-channel opportunities, 3) understanding how vital the store's place is in the new ecommerce/multichannel experience, 4) focus on creating a seamless brand experience across all channels, 5) coordinated ecommerce and marketing departments and 6), streamlined technology platform/improved infrastructure.
On the other hand, the key takeways for what's out in 2013 is; 1) doing things the same as you did before and hoping they work out, 2) assigning high value to branded deals of the day and promo offers, 3) operating store and online seperately, 4) no focus or understanding of how important creating a seamless brand experience across all channels is to remain relevant, 5) siloed ecommerce departments, and 6) not bothering your IT department because you don't want to burden them.