Author: Paul Sirface
Due to recent tragic events that occurred at the hands of less than responsible business owners in Bangladesh, US Retailers and Distributors now understand that they need to "know" their supply chain. Gone are the days of retailers and distributors negotiating the lowest price deals in their offices in the US. Today's consumer is socially aware and they want to know that the retailers they do business with are responsible manufacturers. The end consumer wants to know that their retailers are actively monitoring that the products they have available in their stores are not produced by under age children or by unfortunate workers who are forced to work in unsafe working conditions.
Retailers and distributors are providing country of origin labeling and there is a push fueled by the recent events that have consumers asking, "How do I know this product is made by a person or company that respects the rights of all humans?" The bar has just been raised by recent events, Twitter and Facebook with its near real-time social networking has flooded the retail community with this question and as of yet the PR departments are scrambling for adequate responses.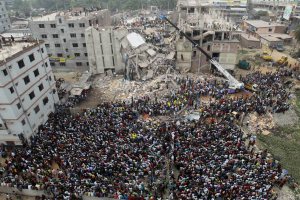 Retailers are struggling with the questions of how to conduct periodic on-site inspections, unannounced spot inspections, reviewing the books of the manufacturers to look at HR records, physical inspections of facilities and even going to the trouble of inspecting subcontractors along the way. Retailers not only have to understand the cost and logistics of these inspectors as well as their ability to keep them ethically free of influences. In addition, retailers are struggling with IT support systems for collecting, processing and ultimately marketing this data to the end consumer. Retailers know this investment in people and systems are no longer talking points, but action points that are being demanded at the highest levels, by their customers.
With the demand in the US for understanding nutritional information from food manufacturers and where upwards of 20% of most grocery stores sell "organic" and "ethically" produced products, where restaurants are quickly acclimatizing to the profits generated by promotion of locally grown locally consumed menu items; the retailer now finds the market changing; as the grocery and restaurant industries have begun adapting to consumer demands retailers need to take necessary steps or consumers will vote with their dollars.
While many companies know that they have to respond to consumers' demands, those with an active Master Data Management strategy have the best chance of responding effectively. Multi-domain Master Data Management (MDM) is the perfect place to begin organizing and collecting the data on product related information within the supply chain, including supplier compliance, to your set of ethical standards. Once the data is organized and collected it is then up to Marketing and PR teams of their respective organization to put the data to its best use. Showing that you are a responsible retailer or distributor and that you are making an attempt to be a world leader is only the half of it. The other part of the equation is to show your suppliers that if they don't comply with YOUR standards then they don't have a place on your store shelves or in your web offerings.
Paul Sirface is a 20 year veteran in the PIM/MDM space, has been involved in the acquisition and deployment of over seventy-five system rollouts on a worldwide basis.