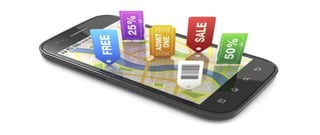 Mobile commerce is an important component of omni-channel retail. As I mentioned in my previous post, omni-channel consumers blur the lines between online and offline and it's imperative for retailers to have a successful omni-channel strategy in order to thrive in today's retail market. An omni-channel strategy cannot succeed without addressing the challenges of mobile commerce as a key pillar.
Statistics have publicized how more and more people are using mobile technology to accomplish a number of tasks apart from connecting with one another. People are now taking advantage of shopping from the comforts of their home or office, without facing the hassle of shopping in brick-and-mortar stores or they are using mobile sites to comparison shop while they are in a store.
comScore.com predicts that mobile users will outnumber desktop users in 2014. Retailers must acknowledge the importance of a mobile optimized shopping experience to enable their business to grow.
Having a consistent experience through multiple channels increases the likelihood that a consumer will buy from your store. Retailers receive data from multiple applications, such as ecommerce platforms, ERP and supply chain management systems, which is problematic for ensuring accuracy if not managed centrally. Many retailers are now leveraging Product Information Management (PIM) solutions to manage product information across those multiple applications and publish accurate product information to multiple channels, including mobile. Any activity underpinned with a PIM solution helps to ensure consistency across every customer touch point to achieve a coherent experience, allowing customers to see brands not channels.
Quality and well maintained product information is one of the most important aspects of a successful mobile commerce strategy. Consider this: a potential customer walks into your store to purchase an appliance. The product description in the store does not match what they reviewed prior to coming to the store. The consumer then goes to your competitor's website, which has thorough product information, and makes an instant purchase. The reality is that this happens everyday.
For a large number of Americans, a mobile screen is the first thing they see in the morning and the last thing they see before retiring for the evening. Mobile is no longer a mere channel for your brand; it is becoming the channel for customer interaction. Mobile devices can no longer be viewed as a simple browsing or gaming tool. They must be regarded as immediate access to your store.
With the growth of mobile shopping, consumers are in the driver's seat demanding to find what they want, where they want it and they expect a consistent experience with accurate, up-to-date product information regardless of the channel.
For more about the predicted growth of smart phones and tablets, and how a PIM solution can help you seize that opportunity, read How Mobile Will Continue to Create the World's Largest Store in Every Pocket