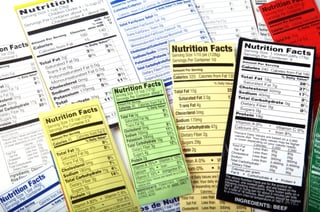 Author: Chad Cosper
In late February, First Lady Michelle Obama announced the first proposed changes to FDA requirements for nutrition labeling for food and beverages. The changes, should they be enacted, will be the first required changes to nutrition labels in the United States in 20 years – although, late last year, the Food Marketing Institute, in conjunction with the Grocery Manufacturers Association, announced a voluntary effort to revamp nutrition labels called "Facts Up Front."
While the joint FDA / White House proposal differs slightly from "Facts Up Front," the driving force behind both proposals is an increase in consumer demand to understand what vitamins and minerals will be consumed when enjoying the product, as well as what the caloric intake will be. Should both proposed changes be accepted and enacted, food and beverage manufacturers will have to change packaging information for millions of products sold in the United States. If the serving size of a 20 oz. soda is changed to 1 (because that's how a typical consumer may treat it), how does that change the number of calories, sugars, and vitamins consumed? What happens if putting those nutritional facts on the front of the packaging causes a consumer demand for manufacturers to change packaging sizes or added sugars?
Confused?
Try stepping into the shoes of a CPG or soda brand manager. These are merely proposed changes for which food manufacturers must prepare. However, with the thousands of products they manage in markets all over the world, brand managers must deal with differing consumer demands and government regulations. This doesn't include the differing units of measurement and languages necessary to calculate and advertise the appropriate nutrition information.
How do most food manufacturers keep up with geographic preferences, labeling requirements, recipes and translations? It's not plausible to use Excel spreadsheets or contain brand knowledge solely within departmental silos. Product Information Management (PIM) systems allow CPG companies the ability to manage all of their product information in a centralized system – streamlining the process for creating packaging and nutrition labels for products all over the world. With a PIM solution, brands can more easily negotiate any governmental or industry changes that are introduced anywhere in the world.