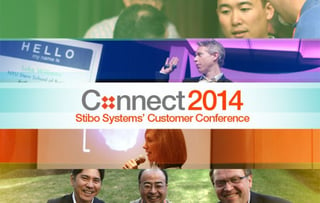 Author: Sara Edwards
The Stibo Systems' Customer Conference, Connect 2014, which took place April 22-24 in Atlanta, created opportunities for business and IT professionals at any stage on their career paths to learn how to take product and customer data management to the next level. The event featured conference sessions, STEP Genius Kiosks and networking with peers.
Sessions focused on leveraging existing product or customer information management accomplishments to achieve true multidomain Master Data Management on the enterprise level.
Attendees were able to immediately increase their value to their organizations by learning how to solve the challenges they face everyday, including the demands of operating in an omni-channel environment.
Sessions were presented by keynote speakers, customer speakers and Stibo Systems experts.
Keynote Sessions
Keynote speaker Sam Taylor, President & CEO, Oriental Trading Company, spoke about the importance of employee engagement and his experience on Undercover Boss. Luke Williams, Professor of Innovation at NYU Stern School of Business, delivered a keynote session on disruption – companies need to be consistently making bold moves, even at the very peak of their success.
Customer-Led Sessions
In her session, Laura Autrey, Director, Supply Chain Reliability and Merchandising Operations, Advance Auto Parts, covered speeding time-to-market while shifting data entry to suppliers, restoring data quality to reduce costs and driving operational metrics in the right direction. Attendees learned how to improve omni-channel merchandising efforts while increasing margin with amplified product MDM.
Adam Grohs, Vice President, SapientNitro, addressed the future of omni-channel. Participants explored key learnings from the world's biggest and best advertisers' journeys into digital.
Bill Ferguson, Global Data Governance Officer and MDM Program Manager, Kellogg Company, led a session on Data Governance for Enterprise Success. In his session, he outlined Kellogg Company's data governance process, model and team. He emphasized that the need for data governance will come before you are ready, unless you act first.
Kim Bozich, eBusiness Process Manager, Masco Corporation, and Erin Beyer, Product Data Manager, Delta Faucet Company, discussed the advantages and challenges of creating enterprise PIM. Through their experience, they found that a true shared service, in an otherwise disconnected culture, is possible
Adam Birkholz, Senior Systems Analyst, Mason Companies, discussed how Internet and direct mail retailer Mason Companies, Inc. partnered with Stibo Systems to tackle the challenges of mass SKU creation and maintenance for apparel, footwear and general merchandise. Stibo Systems helped Mason Companies meet these requirements of vendors and trade partners, such as Amazon, Google and eBay.
Seah Ho, Director, Content Operations, and Kelly Koeller, Manager, Strategic Content, W.W. Grainger, Inc., shared how Grainger has advanced the use of product data in all of its business systems. The session concluded with what the near-term holds for Grainger's use of STEP — the new direction with STEP's Supplier Portal and Asset Portal.
Stibo Systems Expert Sessions
Stibo Systems experts presented sessions, including:

The Value of Enterprise MDM

STEP Up to a New User Experience with the STEP Web Interface

Stibo Systems Technology Vision & Roadmap

Connecting with the Right Partner

Data Modeling & Taxonomy

Matching & Linking: Why the Golden Record is Crucial for Customer & Product MDM

Optimizing Dashboards for Data Quality & Governance

Taking the Next "STEP"