Author: Peter Krensky, Research Analyst, Aberdeen Group
Keeping critical business records reliable and accessible is the mark of a good master data management program. Aberdeen benchmarked companies as Best-in-Class based on their ability to maintain high levels of data quality and how easy it was to use their data systems. The three key performance indicators Aberdeen used to distinguish these top organizations were percent of master data that is complete and up-to-date, percent of master data that is accurate and properly classified, and hours per week per employees spent searching for information. A reliable data foundation impacts all information-centric operations around the organization. The Best-in-Class improved time to access data by 19% year-over-year, allowing their employees to spend less time searching for data and more time using it. The data they employed was also more likely to be exactly what employees needed. Over two-thirds of the Best-in-Class were completely satisfied in this regard, while less than a quarter of Laggards were happy with the information they received from a data query.
Incremental improvements might not seem like a sufficient reason to start a major enterprise initiative like master data management. However, Aberdeen's research shows that the business benefits of data management are often greater than the sum of its individual performance boosts. Figure 1 demonstrates that top performers in data management also see the largest annual improvements in revenue, cost reduction, and customer engagement.
Figure 1: Business Performance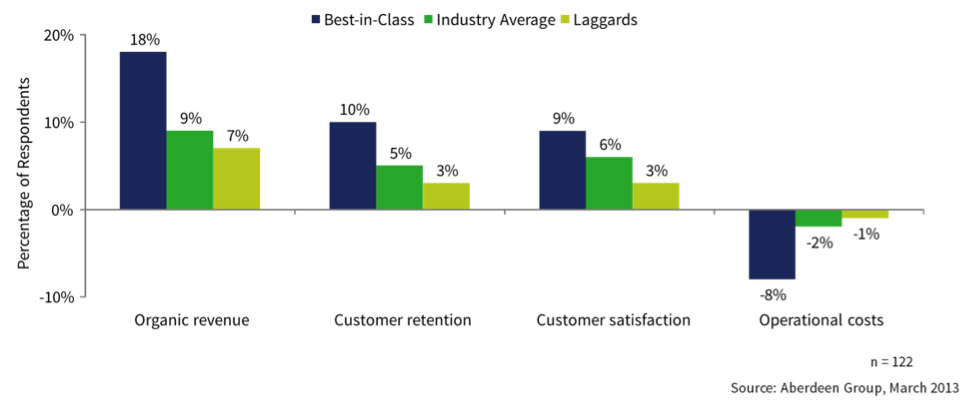 Organic revenue, defined as revenue from sources other than mergers and acquisitions, grew at an impressive 18% year-over-year for the Best-in-Class. It is important to note that having an MDM system is not the sole reason for these organizations' better performance. There are far too many variables around revenue growth to attribute success to any single cause. However, the correlation is clear: the organizations that reported the most earning improvement were the ones that had spent the time and resources to build a solid data foundation. And all those little process improvements – an hour saved here, an error avoided there, an invoice completed early, more on-time shipments – add up to an 8% reduction in total operational costs.
Furthermore, in a year where customer engagement is a top business concern, these organizations also reported the largest improvements in customer metrics. The Best-in-Class achieved a 10% improvement in customer retention year-over-year and a 9% improvement in customer satisfaction. The more an organization knows about its customers, the better it can serve them. Strong data management practices and data access help customer-facing employees work to keep customers satisfied and prevent them from taking their money elsewhere. Business development managers can also spot trends in master data that will lead to cross-sell and up-sell opportunities. With a solid data foundation, Best-in-Class organizations build stronger relationships with their customers that drive superior overall performance.
About the Author
Peter Krensky is a Research Analyst in Aberdeen's Analytics and Business Intelligence (BI) practice. At Aberdeen, Peter produces data-driven research to reveal the business benefits of various technology solutions. This research identifies industry best practices for technology implementations that lead to top performance. Peter's primary research topics include real-time analytics, data visualization, self-service BI, and cloud/SaaS BI, as well as role-based and industry-specific applications of analytics. Peter graduated Cum Laude with a Bachelor of Arts in History from Amherst College in Amherst, MA.