Author: Peter Krensky, Research Analyst, Aberdeen Group
Ninety percent (90%) of Best-in-Class companies (top 20% of performers) have a formal MDM initiative in place, which directly correlates to their performance in data quality, process efficiency, revenue growth, and cost reduction. An MDM initiative, however, is a complicated beast, comprised of technological solutions, the people who run them, and the organizational policies that govern both. On the pure technology side, there is great variation among solutions that dub themselves "MDM." Some are designed to govern only a single data domain, others many domains at once. Some have a long list of features and functions. Some only do a few things very well. Aberdeen's MDM studies call out the elements of master data initiatives that most strongly correlate with Best-in-Class performance (Figure 1).
Figure 1: Organizational Capabilities around MDM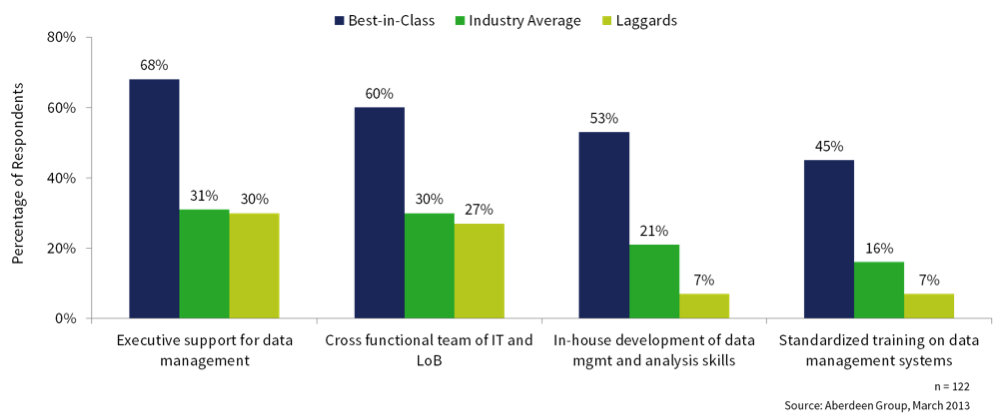 One of the major trends in recent MDM research was that the Best-in-Class show more and more separation from the rest of the pack. More so than in years past, they show much higher adoption of both organizational policies and technology enablers. As such, they are strongly positioned to deal with rapid data expansion and the new complexities of MDM environments. Of course, all these data initiatives and technology implementations require approval from somewhere, and more than two-thirds of top performers have a senior executive sponsoring and supporting their MDM programs. Traditionally, a lack of management support has been a major stumbling block for MDM programs, as executives don't always understand the importance of data quality or find it hard to define ROI for these programs. However, the numbers indicate that this trend is reversing gradually. Across all companies, especially the underperformers, more members of senior management support MDM and other data programs. In 2012, only 10% of Laggards had this support, but a year later this figure increased to 30%. Additionally, more executives from the line of business understand that better data can spell better performance in their departments. While the lion's share of supporting executives are either CEOs or CIOs, 28% of all companies report the head of sales is involved in MDM, and 26% have input from the head of marketing.
Once the Best-in-Class secure management support, they take the time to involve the rest of their employees. The Best-in-Class are 237% more likely than All Others to have in-house development of data management and analysis skills. Top performers invest in their analytical user base to improve the understanding of data resources and the quality of analysis. In-house programs allow an organization to align the skills of its workforce with corporate goals. The Best-in-Class are more than twice as likely as Laggards to use cross functional teams with personnel from both IT and line of business. These teams give users a voice for their data wants and needs and help the line of business understand the IT demands of MDM. The Best-in-Class are also 256% more likely to have standardized training on data management systems.
Successful MDM is about more than just technology. Top performing organizations invest in the people that make MDM impactful throughout the organization.
About the Author
Peter Krensky is a Research Analyst in Aberdeen's Analytics and Business Intelligence (BI) practice. At Aberdeen, Peter produces data-driven research to reveal the business benefits of various technology solutions. This research identifies industry best practices for technology implementations that lead to top performance. Peter's primary research topics include real-time analytics, data visualization, self-service BI, and cloud/SaaS BI, as well as role-based and industry-specific applications of analytics. Peter graduated Cum Laude with a Bachelor of Arts in History from Amherst College in Amherst, MA.