Author: Kayla Cole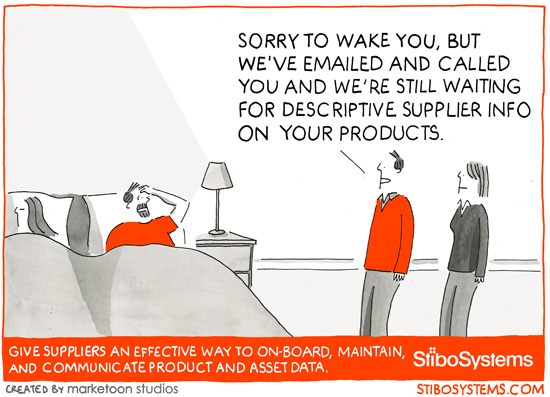 Have you ever had to wait on a supplier to send over product information? How often is that information in a format not compatible with your publishing system? Gathering product information for new products and making changes to existing products can be time-consuming and slow. The process of receiving information from suppliers typically involves requesting information from multiple suppliers via email, phone and mail, which often results in information that is incomplete and inconsistent, and demands further manual involvement.
Do you face any of these challenges?
Getting data, images, and supporting materials from your suppliers

Manually entering and correcting product data from suppliers to make it consistent and standardized

Delays in bringing new products to market due to incomplete or inconsistent product content
Wouldn't it be so much easier for suppliers to upload their own product data and manage their own accounts?
A Product Information Management (PIM) system allows you to manage all supplier data from a high level in a single repository to ensure that everyone inside and outside your company is using the same source of clean, validated product information. With secure access via a customized web interface, suppliers are empowered to upload their own product content, attributes and images, thus freeing buyers, merchandisers and product managers to focus on more strategic tasks while reducing errors and labor costs.
Allow your suppliers to:
Upload their own product content (data, attributes, copy, images)

Upload data via spreadsheet, e-mail, or your branded custom user interface

Manage their own product content

Add new items, change prices, add promotional items, discontinue items, and more
Effective supplier management goes beyond gathering product information. Pressure to reduce costs and increase revenue requires ongoing changes and negotiations related to pricing, shipment schedules and product obsolescence. In addition, the speed at which you and your suppliers react is directly related to the speed at which information and data are accessible and shared with customers.
A PIM solution allows for data to be shared in real-time, thus providing the business as well as the suppliers with the most up-to-date information. This also provides a single source of truth needed to take action on operational information and a way to consistently share information.
Collaboration between buyers and suppliers can have benefits in many areas, from reduced cycle times and better contract management to improved data administration and streamlined processes. Enable your suppliers, and you'll have more success in both mitigating today's concerns and navigating future risks.
Don't let your suppliers slow you down!
Read more about Supplier Master Data Management.