Author: Peter Krensky, Research Analyst, Aberdeen Group
Aberdeen's research shows that the top pressures driving organizations to improve their data management include the technical issues of poor data quality and slow data access as well as the business issues of inefficient processes and customer engagement. For organizations that struggle with these pressures or want to improve the way they handle their master data, Aberdeen recommends investing in tools for the entire data lifecycle.
While no MDM solution does everything perfectly, several tools and functions are critical to managing large amounts of important records efficiently. Some MDM solutions come with these as part of a package offering. Others are designed to work well with third-party solutions that accomplish these tasks. Either way, Aberdeen's research has identified the following technology enablers as key contributors to Best-in-Class success (Figure 1).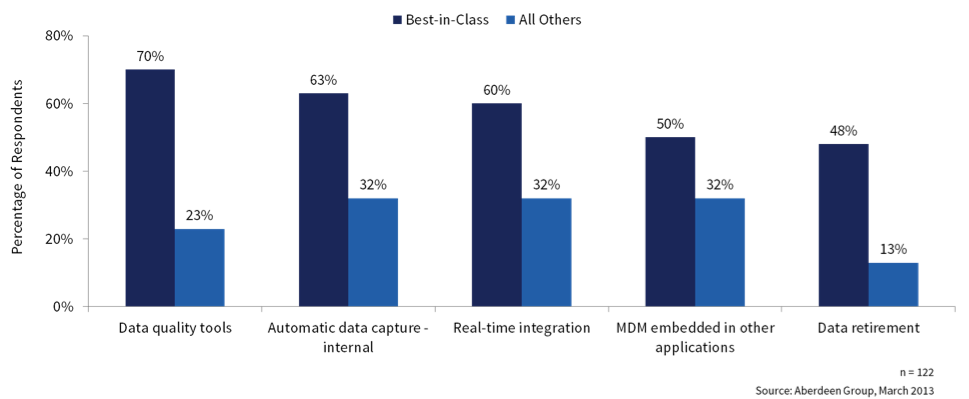 Simply put, the Best-in-Class address the entire lifecycle of their master records, from the moment of creation until data is finally deleted. Seventy percent (70%) of these top performers have data quality tools in place to ensure that when records are created or imported, they meet the high standards the organization has in place for data accuracy. When data is brought from others sources into the MDM system, they are twice as likely as other organizations to avoid a manual process and instead use an automated system for data capture. This saves on time and manpower and avoids the possibility for human error introducing flaws into the data.
Once data is created, captured, and integrated into applications, the Best-in-Class try to make it quickly and easily available. Sixty percent (60%) of the Best-in-Class use real-time integration tools to almost instantaneously update the applications most often used in the organization. The most commonly integrated applications are Customer Relationship Management (CRM), Enterprise Resource Planning (ERP), and Financial or Accounting programs. A step above this level of integration is to fully embed MDM functionality into these popular software programs, a practice adopted by half of the Best-in-Class. This allows an end user to create or update a master data record within a familiar application, without having to exit and deal directly with the MDM system interface. Finally, the Best-in-Class don't ignore the end-of-life aspect of their master records. When the records are no longer being and have minimal value to the organization, many of these top performers have retirement tools in place to safely archive or destroy this information.
From creation to retirement, master data must be managed and governed each step of the way. Automate as much of the process as possible to avoid human errors. Most importantly, have data quality tools in place to ensure master records meet company standards at all times.
About the Author
Peter Krensky is a Research Analyst in Aberdeen's Analytics and Business Intelligence (BI) practice. At Aberdeen, Peter produces data-driven research to reveal the business benefits of various technology solutions. This research identifies industry best practices for technology implementations that lead to top performance. Peter's primary research topics include real-time analytics, data visualization, self-service BI, and cloud/SaaS BI, as well as role-based and industry-specific applications of analytics. Peter graduated Cum Laude with a Bachelor of Arts in History from Amherst College in Amherst, MA.