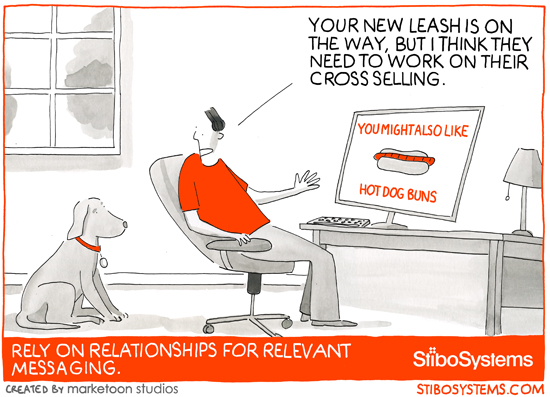 Does "Buy the look" or "You may also be interested in" sound familiar when you think of your latest e-commerce visit? If so, then you have been the target of cross-selling.
Lots of retailers practice cross-sales strategies where additional products or services are being offered to an existing customer or prospect. You would think that this approach would be profitable, right? More sales equals more profit. Unfortunately this is not always the case since far from all companies succeed in cross-selling.
A few years ago Marketing Professors Denish Shah and V. Kumar did a comprehensive cross-selling study of companies across industries in the U.S. and Europe. They found that the average profit from customers who cross-buy is higher than that from customers who do not. But what is more surprising is that one in five cross-buying customers is unprofitable and these customers account for 70% of a firm's total customer loss. According to Shah and Kumar many of these profit destroyers turned out to be so-called "revenue reversers" – the more products they buy, the more they return.
Now the big question is: How can you help avoid product returns and make the most of your cross-selling efforts?
1. Present highest-quality product information
First of all, minimize the risk of returned goods by presenting all of your products with relevant, detailed and, most importantly, correct product information, e.g. dimensions, colors, usages, various images, stock status, etc. – in the fashion and lifestyle industry you will want to add a size guide, "model wears," maybe even a catwalk video online. Finally, make sure the information is consistent in all sales channels, including in-store, where employees should have access to that information as well.
2. Understand Your Customer
Create a comprehensive understanding of each customer's shopping behavior to optimize your messaging and sales. Any approach – but especially cross-sell – should be taken based on individual customer characteristics and previous behavior to make it as personalized as possible. Before undertaking cross-selling initiatives, companies need to gather and analyze information on each customer to determine whether that individual fits a problem profile. If a company identifies a revenue reverser it might want to exclude him or her from cross-selling campaigns.
Here is what Best Buy did: The electronics retailer discovered that among the customers who had high product return rates there were a smaller group who returned items without the packaging and then visited the store again and bought the same products at discounted, open-box prices. Best Buy now requires item-returning customers to present a photo ID, and reserves the right to refuse a return based on the customer's transaction history.
3. Boost organizational flow
Cross-selling obviously implies that companies are able to combine and organize products or services across categories, locations, people, etc. This strategy requires a high level of business collaboration and coordination enabled by smart technology that allows systems, channels and employees to use, share and push out high-quality product and customer information as well as to handle all processes around products effectively.
If cross-selling is done right, it will improve the customer shopping experience and, as a consequence, your revenue. If done poorly it might end up costing you profit instead of earning it. In the end, it all comes down to the information you base it on.