Author: Peter Krensky, Research Analyst, Aberdeen Group
Advanced analytics and complex data-driven decision making have a lot in common with the manufacturing process. Raw materials (data) are gathered and prepared for assembly or fabrication. Through a series of processes they are transformed into a usable finished product (business insight) for delivery to the customer base (line-of-business decision makers). Sticking with this analogy, if advanced analytics represents the assembly and delivery phases, then the material gathering and preparation can be compared to the activities and technologies inherent in Master Data Management (MDM). By combining MDM and advanced analytics, companies strive to streamline the manufacturing process and become more productive data-driven organizations.
Late data is a major issue for the analytical organization. IT departments are challenged to deliver relevant data to the right decision maker within a window of time that can support key decisions. Accessibility can also be a struggle, as companies look to free their data from department- or application-specific silos in an effort to enrich decisions with a broader array of information.
What would an effective data-driven decision environment look like? If late information is a top concern, then it stands to reason that the answer to that question would involve timely information delivery. It just so happens that research shows that organizations leveraging MDM and advanced analytics have this very advantage over other organizations (Figure 1).
Figure 1: Faster Information, Quicker Decisions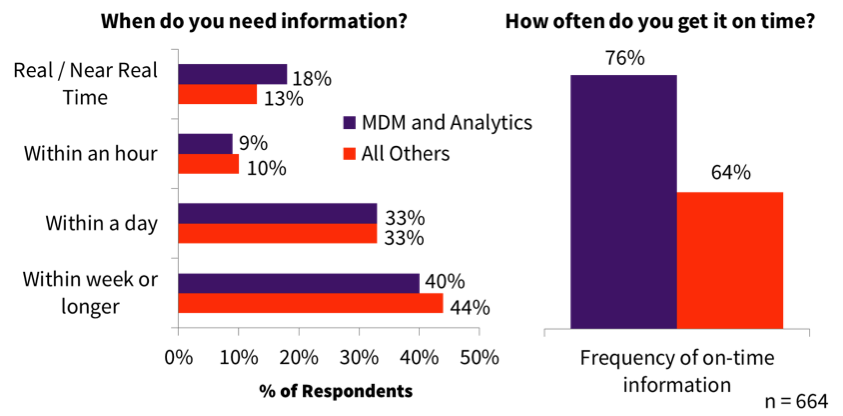 Source: Aberdeen Group, March 2014
Depending on job function, seniority level, industry, or various other factors, decision makers have different requirements when it comes to information. In order to make an impact, operational managers may need information very quickly, perhaps even approaching real time. More strategic decision makers might have a looser requirement when they need information (within the week or even later), but that doesn't diminish the importance of getting that information on-time. Whatever the decision window, organizations with a combination of MDM and advanced analytics deliver information with that window 76% of the time. To look at the data another way, these organizations are more than 50% less likely than all others to get late data.
As the amount of relevant, usable business data continues to expand in today's corporate environment, users are simultaneously challenged to make decisions within a shorter window of time. Analytics users have more data to leverage than ever, but less time to think. In the face of rapidly expanding data, MDM and advanced analytics offer users the ability to manufacture more profound insight, even on a tight deadline.
About the Author
Peter Krensky is a Research Analyst in Aberdeen's Analytics and Business Intelligence (BI) practice. At Aberdeen, Peter produces data-driven research to reveal the business benefits of various technology solutions. This research identifies industry best practices for technology implementations that lead to top performance. Peter's primary research topics include real-time analytics, data visualization, self-service BI, and cloud/SaaS BI, as well as role-based and industry-specific applications of analytics. Peter graduated Cum Laude with a Bachelor of Arts in History from Amherst College in Amherst, MA.