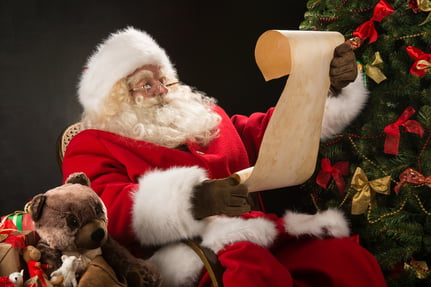 "He's making a list and checking it twice. Gonna find out who's naughty and nice."
Whether you are ready or not, Santa Claus is coming to town. And, if you are like Santa, you also have a list that you are checking twice. And three times. And maybe 46 times. And where is Aunt June's new address? And did I buy a gift for Cousin Jimmy's new stepson? And where in the world is the Snow Glow Elsa still in stock?
We only manage the holiday season for our family and ourselves. Santa manages it for the whole world. Keeping track of all of the people and households in the world is difficult for him. Can you imagine how many James Smiths or Maria Garcias there are in the world? And how many of them changed addresses in 2014? And did James Smith in Marathon, TX request a pair of boots in black or brown? And which supplier provides brown leather for boots, again?
So, how does Santa do it? Most likely, he uses the same magic that makes his reindeer fly. However, if that magic were to disappear (or be captured by the Central Park Rangers), he could use Master Data Management (MDM).
People – An MDM solution could manage all of the distinct names on Santa's list in a single repository that provides data quality and de-duplication. (So James Smith won't get two pairs of brown boots.) It can even group people into households so that Santa knows that James is the father of Ella and Timothy. And, with up-to-date sources, Santa could use MDM to update the address for The Smiths in Marathon, so that he doesn't deliver their gifts to the address where they lived last Christmas.
Products – Face it, the sheer volume of products produced by Santa's workshop creates a product data nightmare. A Product Information Management (PIM) solution could help him track the specs of each toy, manage the version changes, store the label translations and ingredients lists and even archive images that can be shared with online and offline channels. With PIM, his elves can collaborate efficiently on product changes, knowing that all of them are working with the same accurate information.
Suppliers – Santa's Workshop must track receipt of raw materials and finished good from hundreds of suppliers. MDM can help him manage those suppliers in a central location so that deliveries are correct, suppliers are paid correctly and the Workshop receives accurate data about the products and materials being received.
Reference Data – Standard code tables related to locations, packaging, or governmental standards are important information for Santa. His MDM solution should store reference data within the same technology as the master data about people, products and suppliers so that it can enhance those records without having to build a costly and potentially clunky crosswalk to a separate silo.
And, if Santa is smart (and we know he is), he would choose wisely so as to ensure that the MDM solution he chose managed all of these things and more within the same technology so that he can view the relationships between each of the data domains.
Happy Holidays from Stibo Systems!