Over the last couple of weeks, the perception of the color of a certain dress has reminded us of the importance of a single version of the truth. The discussion began with a photo on Tumblr and spread out across social media. The hashtag #TheDress was the top trending topic on Twitter that weekend. The topic has garnered more than 6 million views on Buzzfeed. And, according to figures Tumblr released after the weekend, the original post had been viewed 73 million times.
It is amazing that a single image could polarize the entire Internet. People all over the world have been arguing about whether the photo depicts a blue dress with black lace fringe or a white dress with gold lace fringe. There are many articles on the Web which explain how that is possible.
"What's happening here is your visual system is looking at this thing, and you're trying to discount the chromatic bias of the daylight axis," neuroscientist Bevil Conway told Wired's Adam Rogers. "So people either discount the blue side, in which case they end up seeing white and gold, or discount the gold side, in which case they end up with blue and black."
What can we learn from this?
Some things we are 100% sure about can, in fact, be totally different. To find out the truth you have to check the data. In case of #TheDress you can check the RGB Values. Examples can be found in a Reddit discussion or on Twitter.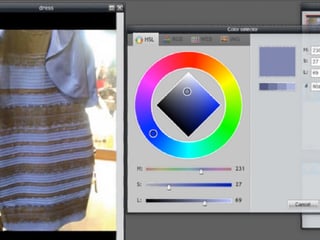 Or you can check the Information provided by the supplier. They should know best.
Both show that the dress is really blue and black (which was not my original opinion, to be honest).
Now we know the truth but we cannot be sure that everybody else sees it that way. According to a poll on Buzzfeed, 66% of the voters still see a white and gold dress.
This means that you have to provide consistent information and good quality pictures to your audience. How people interpret that information might still differ according to the medium used. People who have seen that dress in a shop or in person would not be confused by its colors. But when it was viewed on a tablet, a mobile phone or computer it is totally different. It is the same with other marketing messages. The perceptions of the various audiences might be different if the message is spread out on your homepage, on Facebook or television or in print. Nevertheless, you have to be consistent and accurate. Providing more information about your product reduces the possibility of misinterpretation. Without that the customer will not buy from you. Even worse, she may buy a dress and return it because it is the wrong color.
With good data, everyone now knows what he or she is buying. What if the customer still wants a white and gold dress? Make one. Roman Originals is now creating a limited edition gold and white version of the dress which it will be auctioning off on eBay, with proceeds going to Red Nose Day. And, with a Master Data Management (MDM) solution you can speed time to get that dress to market, leverage operational information as competitive differentiators, reduce costs and enhance agility.
What if you have no dresses at all?
You can still make use of the hype if you know your products and have your images easily accessible and correlated correctly to products. With MDM and Digital Asset Management, you can reduce time and costs by being able to organize, quickly search and manage digital rights and usage of your Web images.