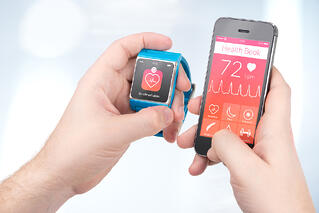 A few years ago I looked at a picture of myself and said "Is that what I really look like?" A quick glance in the mirror confirmed that years of an unhealthy, sedentary lifestyle left me with a few more pounds than were healthy. My cholesterol was high, my skin was blotchy and my energy level was low. I needed to make a change or two. Or five.
I embarked on a plan to change my eating habits and exercise ritual. I learned about clean eating and how to plan and prepare a healthy menu. I attended boot camps and worked out with strength trainers, took spin classes and, maybe most important of all, started running. I learned that there existed websites and apps to help me plan my menus and running routes, track my calorie consumption and log my mileage totals and average paces for each run.
Over the years, the technology in this area has exploded both in popularity and in capability. Today I wear one device that records and logs my miles run, the route and average pace in addition to the number of steps I take, calories burned all day long, my heart rate and even my sleep patterns. All of this information syncs directly to a dashboard that I can use to monitor my progress – now (at my request), the information also syncs directly to my health insurance company.
Patient engagement has long been a concern of both providers and insurers. Convincing us to be more proactive about our health, especially if we have conditions like high blood pressure or diabetes that need to be closely monitored has, until recently, proven to be an enigma. The same websites, apps and wearables with which I have been experimenting are collectively proving to be one of the avenues to improve patient engagement.
The next time I visit my primary care physician for a physical, or anything else, I can show some of my historical trends. Eventually I may even be able to upload those statistics directly to my patient record in the clinic's EMR to improve personal outcomes and quality of care. Ultimately, it will save me money in unnecessary or duplicated tests and improve my health.
Eventually is already the case with my health insurance company. As I mentioned earlier, I voluntarily allow the app company that manages the information that my watch tracks to be shared. To incentivize me, the company has gamified patient engagement by offering consumer incentives for participation. Registering a workout earns me 15 points. Getting a dental exam is worth 250. Taking an online survey to analyze my risk for a heart attack can get me 25 points. The points add up and I can use them in the marketplace for gift certificates, fitness equipment or games that encourage greater activity.
The goal for my payer is twofold: first, it encourages me to be more active and engaged, which should ultimately save the company money in claims due to poor health; second, and probably even more important, the company can aggregate my data along with all of the other data that it receives from all its participating members. This Big Data effort is less about me personally and serves the payer with an opportunity to mine activity information to create predictive analysis models for improved treatment plans and payment models.
This may not sound like much, but improving the costs and quality of healthcare requires participation between the provider, the payer and the patient. This collaboration requires healthcare enterprises, like providers and payers, to rely on IT systems that encourage interoperability and sharing to deliver patient-centric care. Engaging patients can't happen in a silo.
Read more about how multidomain Master Data Management can help healthcare systems and payers to be more patient-centric.
As for me, I have lost more than 40 pounds (and counting) since I started. I no longer worry about my cholesterol, or take medication to control it. In the future I am eyeing a road bike that I can get with the healthcare points I am racking up.