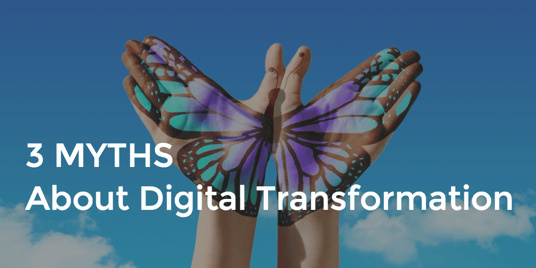 If you haven't heard the term Digital Transformation or Digital Disruption, you have probably been living on another planet for the past few years. Digital is happening and it's happening now. Our latest Digital Transformation Business survey showed that three-quarters (76%) of all the organizations asked, claimed that they were currently undertaking a digital transformation project.
Nonetheless, it seems that there are still aspects of digital transformation that are unclear. Let's take a look at three of the biggest digital transformation myths.
Myth 1. Digital transformation only concerns B2C companies
Even though the development is moving faster in some verticals, such as in B2C retailing, no organization of any kind is unaffected by the digital wave. From fashion retailers to financial services, heavy manufacturers and even organizations in the public sector – they all have one thing in common: Their customers, partners, and suppliers are using digital technologies in their everyday life and more importantly – in their work. Digital transformation is closely connected to the customer experience, and that needs to be excellent whether the customer is an average consumer or a procurement manager. In other words: Digital Transformation concerns ALL types of companies.
Myth 2. Digital transformation is just about technology
Yes, a major component of digital transformation is technology. But what's equally important is the cultural transformation that needs to happen in order for an organization to become truly digitally transformed. According to a recent study1, a digitally transformed organization is one where digital has transformed processes, talent engagement, and business models. Digital transformation is not just about customer experience, it's also about using the technology within the business, making your internal processes and workflows more effective. Regarding the external transformation you basically need to change the business' entire thinking: Let's say you're selling office supplies. Instead of thinking "How can we sell more products?" you need to think "How can our products help customers have the best possible day at work?" But remember you need to be able to articulate both the thinking and the value of the digital transformation to the entire organization.
Myth 3. Our IT department has got digital transformation covered
First of all, digital transformation shouldn't sit at the IT department, it should, like every major business transformation strategy, be led from the top. Secondly, your existing IT department does play an important role in the digital transformation since a big part of this process is about integrating digital technologies, such as social, mobile, analytics and cloud (or in a fancy term SMAC). But that still might not cut it. You need a strong IT foundation, both in terms of people and technology, and in many businesses the IT foundation needs to be shaken or changed entirely.
How do I get started?
Digital transformation is relevant to any business that wants to thrive in today's technologically driven world. A successful digital transformation initiative involves many departments, stimulates change in business processes, and isn't just an IT issue. Digital transformation is about harnessing the digital lifeblood that runs through your customers, suppliers, and partners and then using that information to make decisions that enrich all facets of the customer experience to positively impact your bottom line. That lifeblood is data. The success of your company's digital transformation will be measured by how well your business collects data, analyzes data, and delivers the right data to the right customer at the right time. Your digital transformation will only be as good as the data it relies on. Therefore, the foundation of your digital transformation must be proper data management.
Learn from others
In 2015, we conducted a study across a breadth of industries about their Digital Transformation activities activities and goals. The study looked at the state of the digital transformation of enterprises and highlights key benefits and challenges companies from various industry verticals and regions have faced in their own digital transformation project. Read this study and learn from those who have began their digital transformation.
[1] http://sloanreview.mit.edu/projects/strategy-drives-digital-transformation/