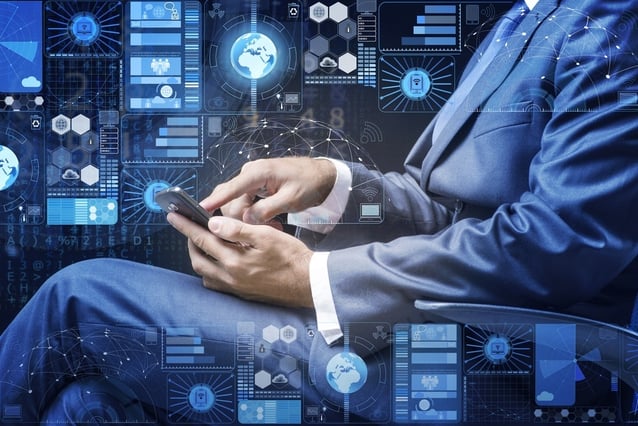 Technology will keep disrupting businesses and industries
2016 will be remembered as the year where digital transformation and disruption was on everyone's lips. By now, I bet there's not a single company out there that doesn't know that they'll have to keep pace with the digital technology if they do not want to risk suffering the same fate as Nokia, Blockbuster and Kodak. Examples we've heard over and over again during the last year. Nevertheless, businesses and industries will continue to be 'Ubered' in 2017. Amazon's latest technology-enabled initiative Amazon Go - where customers can skip the line and cash register and just leave the store with their goods automatically registered and paid for - may be the first step toward a disruption of the entire grocery industry. So far this technology is only applicable to stores and services that the customer uses regularly, for example a supermarket, since it still requires the user to download an app. We have also seen that users are not prepared to download just any app simply for better customer experience; therefore, technology beacons in the fashion retail industry are completely out of the picture this year.
Cloud migration explosion coming up
Cloud Computing was already a hot topic in 2016, and it will continue to be in 2017 as more workloads than ever before will be moving to cloud-based platforms. A 2016 report by Cisco found that more than four-fifths of all data center traffic — 83 percent — will be based in the cloud within the next three years.
"Forrester found that 38 percent of 1,000-plus North American and European enterprise infrastructure technology decision-makers said that they are building private clouds, with 32 percent procuring public cloud services and the remainder planning to implement some form of cloud technology in the next 12 months. Also, 59 percent of respondents said they were adopting a hybrid cloud model."
But with the explosion in use, we are bound to run into more and more problems such as data protection and security, management, automation and scalability. During 2017 we will continuously see more solutions to these problems.
Data Protection will become an increasingly important competitive factor
Businesses already know that data is the secret sauce that fuels a lot of the new technology and exceptional customer experiences. During 2017, consumers will become increasingly aware of this and realize that their personal data is actually valuable to businesses and hence be more critical and picky as to who they share their data with, what it's used for and what they'll get out of it (cf. bullet 1). The tendency is fuelled by comprehensive new personal data protection regulation setting in in the beginning of 2018. The GDPR will shake up how global businesses process data of EU citizens as well as raise the bar for the businesses that don't. This will put data protection management right on top of most businesses to-do list in 2017.
Blockchain technology becomes more mature
One of 2016's new hype words, Blockchain - by many known as the technology underpinning the bitcoin digital currency – will also continue to trend in 2017. Blockchain, a type of distributed ledger, comprised of unchangeable, digitally recorded data in packages called blocks, stored in a linear chain, is emerging as a way to let companies make and verify transactions on a network instantaneously without a central authority. Up till now, businesses - especially financial institutions - have mostly experimented with and tested the technology that – once realized – could become a secure and transparent way to digitally track the ownership of assets, speeding up transactions and cutting costs while lowering risks. 2017 will perhaps be the year where the technology will start coming to use, as well as the year where Blockchain application experiments will spread to other industries. However, a wide adaptation is not within range anytime soon.
A 2016 Morgan Stanley Report on the subject conclude that:
"As with any early-stage, highly complex technology that demonstrates the ability to change conduct business, we think it is too early stage to make any profound comments about winners and losers or breadth of adoption." And: "We think 5-10 years off for widespread adoption and not material to 2017/18 earnings of any financial we cover. Rather as we show in our roadmap, expect proof of concept tests in 2017-18."
IoT, Of Course
We've seen the growing concept of the internet of things (IoT) in 2016 and its expansion will only continue in 2017 due to the persistent development of Wi-Fi availability. According to Forbes, Forrester predicts, "IoT will be distributed across edge and cloud, boosted by AI and containers." In other words, not only will Wi-Fi availability assist the growth of IoT but new machine learning will also come into play. Both factors will enable nearly any device that can be connected to the internet, to be connected.
For instance, in our recent post, "Are you ready for customers that want to facetime their food?", we discussed Samsung's Family Hub Refrigerator, a new appliance that allows your fridge to connect with your smartphone. This was just one example of many that displays how your machines and devices will increasingly be driven by data and become part of the IoT.
Artificial Intelligence, Machine Learning
Machine learning is quickly becoming a strange reality that was once only seen in movies. A Forbes article states, "Machine learning is a kind of artificial intelligence (AI) that provides computers with the ability to learn without being explicitly programmed." It uses algorithms and pulls from existing data to create a prediction.
In 2017, machine learning is predicted to go to a new level. While it's been used for things like creating playlists and recommending books, we now see more potential. This potential is demonstrated in the recent launch of above-mentioned Amazon Go. We're excited to see what else data will do for machine learning in 2017!
Industry 4.0 - manufacturers need to be prepared
Industry 4.0 is defined as "the current trend of automation and data exchange in manufacturing technologies." The term specifically refers to the fourth industrial revolution and comes as a direct result of the Internet of Things (IoT) and machine learning. As with any new trend, there come great challenges and great advantages.
While Industry 4.0 holds the potential to improve production facilities and workers' health and safety, it could also impact jobs and technology expenses. However, as we continuously see with new and eventually improved technologies in the workplace, those that don't choose to digitally adapt may be left behind. Afterall, as it pertains to Industry 4.0, "emerging markets like India could benefit tremendously from Industry 4.0 practices, and the city of Cincinnati, Ohio has declared itself an "Industry 4.0 demonstration city" to encourage investment and innovation in the manufacturing sector there. So, Industry 4.0 will be a manufacturing trend to keep a very close eye on in 2017.
Digital Twins becoming an affordable reality
While digital twins have been used for years now, the digital twin trend is another direct result of accessibility thanks to the IoT. Gartner explains, "A digital twin is a dynamic software model of a physical thing or system that relies on sensor data to understand its state, respond to changes, improve operations and add value." Digital twins have been used in manufacturing (cars, airplanes, etc.) for a while now, but why is this an expectation of 2017 trends?
To put it simply, affordability. Due to the rapidly growing expansion of the internet of things, digital twins are becoming a more affordable reality. In 2017, we can expect to see digital twins expand beyond the manufacturing world with real-time data. Industry Week states, "Data from smart connected equipment would be aggregated, analyzed and transformed into actionable information for the maintenance staff. Technicians can focus on trouble-shooting the issues at hand rather than performing lengthy diagnostics processes at every service visit."
While you're all preparing for the big technology trends of 2017, Stibo Systems will continue to help you improve your data.