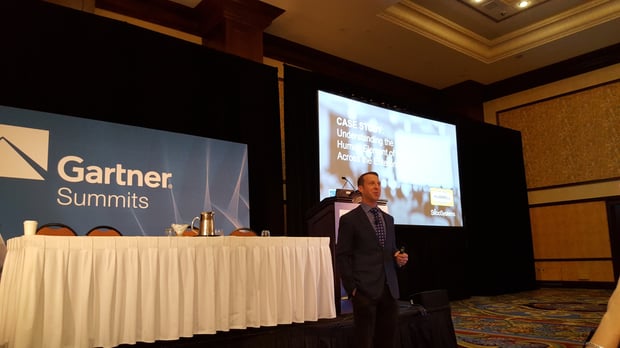 (John Riley, Director, eCommerce for Hubbell Inc, presenting "MDM's Human Element: The Challenge is Culture, Not Technology")
We're back from the 2016 Gartner Enterprise Information & Master Data Management summit in Grapevine, TX. It was really exciting to be a part of the summit and to have the opportunity to talk with developers and executives who are either planning or currently undergoing Master Data Management (MDM) or Enterprise Information Management (EIM) initiatives within their organizations.
We listened to many insightful case study sessions from many different companies, all from different industries, and each of them was eager to share their current progress, discussing current difficulties and explaining the challenges of undertaking EIM projects. The diversity of industries and the similarity of many of their issues, which we'll talk about below, spoke volumes about the challenges faced by companies who implement either MDM or EIM for the first time.
As we listened to many of the sessions across the three-day conference, it was clear that several common trends and topics were the main focus of this year's conference:
There is No Success Without Governance
Throughout the conference, there was a constant focus on information governance and its importance for a successful EIM effort. There was an interesting focus on the human aspect of governance, specifically how your organization's culture can hinder (or help) to establish governance. After all, if a company does not have a culture of accountability in place or lacks knowledge on the importance of data management, implementing good MDM or EIM can be hard, if not impossible. Additionally, if key decision makers don't understand the need for data management, data stewards won't be able to efficiently enforce business rules to maintain data quality across the organization.
Furthermore, selecting the right data stewards is also critical. Individuals or groups acting as stewards need to have in-depth knowledge of data ownership and data management processes. Without it, they are not able to create and enforce adequate business rules that can guarantee data quality and ensure the success of EIM.
Measure your Data to Quantify Success
Building a good business case to receive approval and funds for your data management initiative requires accurately presenting the business value that both EIM and MDM can provide. But how can you convey this value? Several analysts pointed out that abstract concepts like data accuracy and consistency don't work too well. Many organizations encounter this problem, and during the conference it was discussed how part of the issue is how we think of data itself.
Traditionally, most corporations did not treat information as an asset. But, is data an asset? Since data is owned, controlled and valuable, it certainly fits the description. Once we start treating data as an asset, it makes it easier to measure and communicate its value to justify data quality and data management initiatives.
There are many metrics that can help you to determine and measure the actual value of your data. Some examples include:
Asset utilization
Time-to-market
Vendor and supplier information
Employee data (including benefits and training indexes)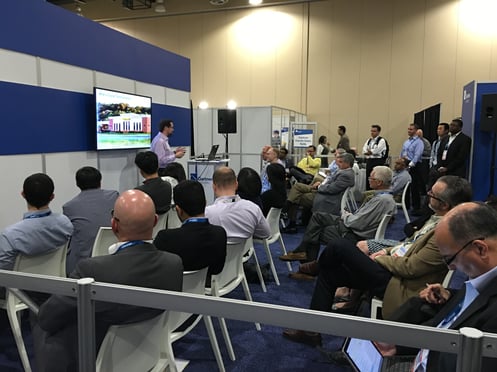 (Rob Bruce, Director, Presales Solution Consulting presenting: "Beginning the Journey to Digital Transformation")
Using MDM to Make Sense of Big Data
Today, organizations capture vast amounts of information every day, however, using this data in a productive and profitable way has been a consistent challenge. How can companies obtain valuable and actionable insights from all this information? Since a good MDM implementation is the source of accurate and trusted critical data, several speakers asserted that the value and meaning of Big Data can be extracted by appropriately referencing and linking it to master data. By doing so, not only should Big Data be able to be analyzed, but the risks associated with using it are reduced.
Looking further ahead, there were also interesting discussions regarding data management implications of the Internet of Things (IoT). With the advent of hyper-connected devices that constantly produce, process and distribute data, this vast amount of information will also become a major challenge to most organizations. How can MDM help organizations cope with IoT? A solution envisioned "things" as the next domain of master data, where MDM provides the necessary governance to set up business rules needed to provide data quality for the information received from the IoT.
STEP Provides Governance for your Data
As we listened to all the information shared during the conference, we particularly focused on the many different challenges companies faced on their journey to MDM and eventually EIM. Governance was indeed one of the major roadblocks most commonly encountered, along with difficulties to quantify the benefits and value of the organization's information. Stibo Systems' MDM platform, STEP, improves collaboration based on structured data policies, provides data quality road maps and establishes standards needed to ensure data quality, accountability and the success of your data governance initiatives. For more information on establishing data governance in your organization download the white paper below.