I checked into my HiMSS hotel Monday afternoon, a perfectly nice place and no complaints throughout my stay. But one thing was amiss: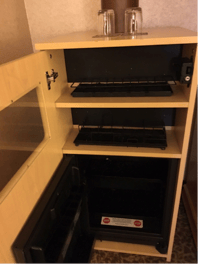 This is a picture of my mini-bar on Day 1. I thought Vegas would not miss an opportunity to gouge me at every turn, so I was a little disappointed. And also, because I am a true snacker at heart and even though I may not have taken anything, I like the option of a Toberlone or miniature can of Pringles on a whim. Was this a sign of things to come?
Flash forward to the next morning and I'm at my still-lovely hotel's buffet, Enormous Eats (not real name), and I'm faced with sushi, a carving station and rows of desserts…all for breakfast. Now this is the Vegas I know and love!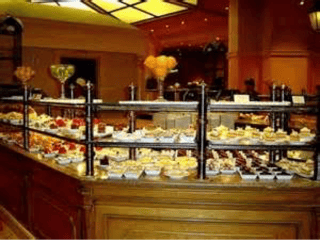 Time to head to the hotel and I see my first of many cab lines, or should I say "people lines"? Cabs were few and far between during the conference and this famine caused me to rely on Uber over and over with much success.
After unintentionally carb-loading at breakfast and being safely carried by Uber, I walk into the Sands Expo and am faced with the mother of all feasts – the Exhibit Hall. Rather than include a picture of exhausted people dodging other people in an exercise that I heard more than once called Frogger, I have included the exhibit floor map. Yes, all those tiny beige blocks are exhibitors and there were 40k+ healthcare professionals walking amongst them.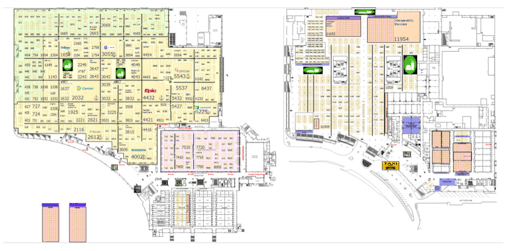 I've attended HiMSS for years and some things are the same: gigantic booths and great people-watching. Some things have changed: swag has become less extravagant so now I actually have to BUY my kids souvenirs and booth babes seem to be a thing of the past. And best of all: we left most of the ICD-10 talk securely tucked into 2015…yay!
So in this buffet of vendors, I am struck by two things for the first time:
1. We keep innovating in healthcare without solving the underlying problem – POOR DATA. There are reporting tools, device integrations, genomic applications, just to name a few. If your underlying data is bad or poorly managed, what good are these new tools and applications?
2. Almost all healthcare professionals we spoke to had a data problem exacerbated by #1. I struggle to understand how organizations can make use of these awesome solutions above if they have duplicate patients or are missing key data.
If you didn't stop by and speak to us, you're not alone: we solicited feedback from I would bet 400+ attendees and almost every single one of them had a common problem – too many data inputs and no real organization of it. Notwithstanding the potential patient safety issues, bolting products onto poor quality data is incredibly expensive and inefficient. We spoke to attendees who quoted as many as ten different systems from which they are reconciling information, such as lab results, images, claims, and referrals.
While those exhibiting at HiMSS might all have good products with great intents and serve a real need, I can't help but feel like we are doing the healthcare industry (our customers) a disservice by not insisting they take a step back and address the core problem. Their DATA.
So how do you break through all the noise? How do you stop healthcare companies from sampling too many foods on the healthcare technology buffet and instead help them manage to build one satisfying, complementary plate? How do you keep them from eating dessert (analytics and other innovations) before they've had a real meal (true data ownership, parity, and quality)?
Let me tell you how:
1. RESOLVE - Create a single view of patients and providers across all departments with an Enterprise Master Patient Index (EMPI) solution.
2. RELATE – Link patients with a Provider Index or Registry for thorough Care Team and Care Plan management.
3. ENHANCE - Connect patients and providers with other clinical, financial and administrative data sources via chosen interoperability paths. Remember, true interoperability means both receiving the data and being able to use it, which can be accomplished after a successful Step 1 and 2.
4. EXTEND – THEN, produce better insights through analytics and most importantly, improve the patient experience at registration and during care and post-care.
On my flight home from HiMSS16, as I reflected back on the discussions our team had with several Healthcare CIO's, I felt relief. The healthcare industry's interest and need for Master Data Management (MDM) is the strongest I have ever seen. Healthcare companies and systems now understand that they need Master Data Management (MDM). They are looking for a Master Data Management (MDM) solution that rapidly integrates with clinical and administrative systems. A system that creates a single view of a patient, provider, or other critical data domains found in healthcare organizations. They now recoginze the need of MDM's data governance tools and workflows that improve the overall quality of an organization's data, and its outbound integration capabilities that provide a foundation to provide high quality data to systems that require it for strategic initiatives like Enterprise Master Patient Index (EMPI), provider registries and self-service portals, health service catalogs, population health and patient engagement programs. While there might be dozens of new additional tools out there, until the underlying issue of poor, disparate data is addressed, Master Data Management (MDM) will be at the top of every healthcare company's menu.