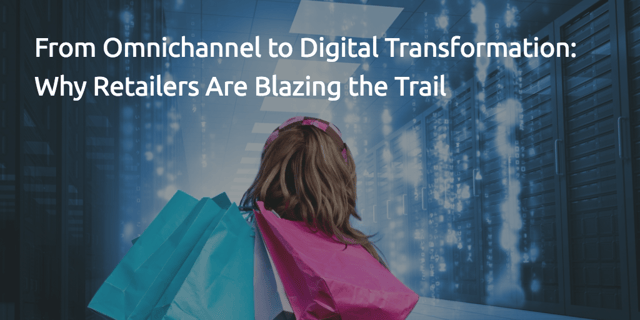 The impact of the digital economy has created new opportunities and challenges for all CEOs particularly for those in the retail sector. What began as a quest to create the perfect customer experience, retailers quickly turned their attention to creating a superior omnichannel environment to keep up with the proliferation of devices and to meet the ever-changing shopping habits of consumers. Digital tools are disrupting the business environment and require significant changes in operations, communications, and selling…and it is about to get much worse.
Take smart devices for example. The adoption of new sales channels, the abundance of product options and the emergence of mass personalization have led consumers to have higher expectations and to become more price sensitive, leading to less brand loyalty than in the past. So while managing information and synchronizing it across channels has become a pressing priority for retailers who have been implementing an omnichannel strategy, the reality is its becoming less about the channel and more about creating a relevant and consistent customer experience.
At the WWD Digital Forum in September, Christopher Walton, vice president and merchandise manager at Target, summed the situation up best when he said, "Our customer doesn't care what type of sale it is. Experiences are coming together and creating almost a new channel unto itself. It's not omnichannel, its on-demand. No one channel and no one experience reigns supreme."
This is why retailers are broadening their scope and focusing their attention on creating an effective digital transformation. And they are not alone. The size of global spending on digital transformation technologies will be $2.1 billion in 2019 with a compound annual growth rate (CAGR) of 16.8 percent over 2014-2019 according to IDC. Spending on digital transformation technologies in the United States alone will be reaching nearly $732 million in 2019, and enterprises are forecast to invest nearly half the worldwide total in 2019 on digital transformation technologies — focusing on making business operations responsive and effective by leveraging digitally-connected products and services.
We live in age of unprecedented change largely because of advances in both technology and the proliferation of consumer devices. If you look at the average lifespan of companies over the years you will find that a company in 1958 had an average lifespan of 61 years compared to the average 18-year lifespan in 2011. This makes the transition to digital less of an option and more of a crucial survival tool for any modern company; particularly those in retail. In fact, IDC forecasts the retail industry to have the fastest growing digital transformation spending, both worldwide and in the U.S., with a five-year CAGR of more than 21 percent.
And this is precisely where Stibo Systems shines. We help companies tackle their digital transformation to continually innovate their systems and processes and deliver the best possible customer experience regardless of the channel. Everything has become a journey and since there is no longer an end point, solutions such as Master Data Management (MDM) must become an integral part of a business that is constantly moving and adapting.
Consumers are certainly in control of the shopping process, as they have an abundance of choices for what, when, where and how they buy their products. In an effort to meet the expectations of the demanding consumer, retailers are extending their omnichannel efforts to one that is truly channel agnostic. Superior and consistent product content is a key element in this approach, and MDM can ensure consistency across all touch points and multiple channels.
Still curious as to how and why retailers are embarking on a digital transformation strategy? Check out this comprehensive research study conducted by our colleagues across the pond to learn more about the state of the digital transformation and the key benefits and challenges companies from various industry verticals and regions have faced in their own digital transformation project.