The National Retail Foundation's annual Big Show conference in New York is always a great opportunity to assess the state of the industry, see what new trends and technologies are coming around the bend and, most importantly, hear what's on the mind of retailers as they continue to adapt to a rapidly changing consumer environment. The consumers imagination and expectation is that all systems and processes are connected, but a reality check shows that business are catching up with meeting those expectations.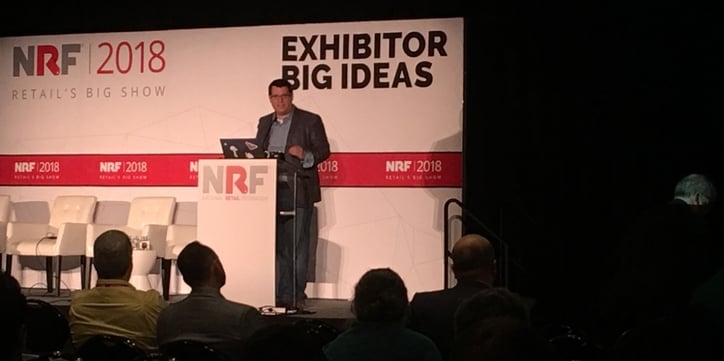 This year at NRF was interesting. Beyond the typical buzzwords you hear in the presentations and see displayed throughout the exhibit hall, one consistent theme I encountered was all about the fundamentals of delivering on great customer experiences. For many retailers, this meant getting the basic blocking and tackling of their supply chains in order. Others readily admitted that they still struggled with these foundational elements of creating great customer-centric programs.
Below is a summary of some of these fundamental elements that I heard most discussed at NRF. I generally lump them into two categories: "Knowing and Serving Your Customer" and "Mastering Your Products and Your Supply Chain." The first obviously deals with issues inherent to customer data and insight, and the second deals with the more tactical execution of programs, most commonly related to product data.
Knowing and Serving Your Customer
1. Ensure you are solving real problems – this one seems obvious, but adopting technology just for the sake of it, or "because that's what everyone else is doing" has led many brands and retailers astray. Focus on the core value proposition you want to deliver to your customers and apply tools and technologies in a way that helps you execute that mission.
2. Know your customer's purchase history – more and more retailers continue to invest in loyalty programs as well as the capabilities necessary to surface this information at any point in an in-store or online service experience, and for good reason. According to Accenture, 75% of consumers are more likely to buy from a retailer that "knows their purchase history OR recognizes them by name and recommends options based on past purchases," leading us to #3.
3. Only show relevant products that fit "me" – Personalized experiences are quickly becoming table stakes. The businesses that can offer uniquely tailored experiences based continue to win loyalty and reap financial reward.
4. Provide easy self-service mechanisms – consumer expectations have forever been changed by digital and mobile technologies. Shoppers increasingly expect everything to be a simple, easy app-like experience. Whether in-store, online or via a mobile app, offering this level of service is of growing importance.
Mastering Your Products and Your Supply Chain
1. Having good information about your product – another obvious one, but something that even retailers of significant size and scale still need help with in order to execute. Helping retailers delivering accurate, consistent and up-to-date product information throughout their organizations and externally to customer-facing channels has been Stibo Systems' forte for decades, so I can personally attest to how fundamental this simple idea is to driving great experiences.
2. Don't promote a product that you don't have in stock, or show out of stock products in search results – Another area where consumer expectations can be your downfall. If you've ever had this happen to you (statistics estimate that it has happened to 60-80% of consumers at some point), you will hopefully agree that this experience can be a significant detriment to brand loyalty and overall satisfaction.
3. Digitize the supply chain to shorten time to market – this is another fundamental building block that we have helped companies execute for decades, so we have seen first-hand how significant this can impact a business.
The More Things Change…
Despite the seemingly exponential change of the retail world, my biggest takeaway from NRF 2018 is that the basic building blocks to delivering great, seamless consumer experiences by and large remain the same. The consumer expectation, the methods, trends and technologies have changed along the way, but the retailers leading the way still start with a mission that is centralized around their customers' wants and needs, and then build out programs built on a foundation of great customer and product data. What that really means is down to each company and even product line as the merchandising takes place at that level.