It's not news to anyone that today's data-driven market is constantly changing. Consumer demand has changed the way businesses operate as it applies to product development. That said, how can your organization meet customers' demands while ensuring quality products? This is where the combination of product lifecycle management (PLM) and product master data management (PMDM), traditionally known as product information management (PIM), can help you stay ahead of your competitors.
What is PLM?
Generally, PLM is known to support the end-to-end process of managing your products from ideation through your sourcing and supply chain. It helps bring designers, engineers, product developers and sourcing together into one system, collaborating and accelerating the development process from the very early conceptual stage. Having a PLM system allows the research and data involved to have a central place, keeping everyone updated, allowing them to work smarter with complete visibility and traceability across data, files and people, innovating and accelerating time to market.
Now, the question is where does PMDM (or PIM) come into play, and how do these two relate? These two disciplines are highly complementary but to this day are kept in disconnected systems. So, let's fix that.
PLM and PMDM working together
While PLM manages products from ideation to sourcing and supply chain, PMDM extends the capability to product launch and commercialization. As opposed to PLM, which actively authors and manages product data, PMDM cleans and enriches your data, acting as a central product data hub. It pulls in every piece of data possible—from ERP systems, your PLM solution, financials, mobile devices and more—and combines it for an overall 360-degree view of the products. This data can be accessed by anyone in the organization anytime it's needed.
The painful reality today is that PMDM (and your internal IT resources) have to work extra hard to integrate other systems like ERP, PLM, etc., to pull in all that data. Now imagine having PMDM and PLM on a single platform, with the possibility to extend to even more domains like customer, location, suppliers, etc. The enterprise engine would run a lot smoother and faster with all data in one place. That integration would be seamless, reducing the burden on your IT resources, helping you increase productivity and operational efficiency—and most importantly, help you keep focused on business growth and value. Only a Multidomain Master Data Management (MDM) can be trusted to handle and scale data at the core to achieve a true product 360-degree view.
Why you need PLM and PMDM
Having PLM and PMDM working together paints a complete picture of a product and the information around it. This helps businesses make better, faster decision for the future, including answering questions like:
Did a product do as well as projected?

Was the time-to-market fast enough?

What should we do differently next time?
While a PLM solution helps throughout the creation of a product, a PMDM solution helps increase the sales of those products by drawing conclusions from the data and distributing it across the organization.
Even though developers would work in the PLM system more often than the PMDM system, they'd have the ability to leverage the results from the MDM data when they begin conceptualizing the next product, using in-market performance data to influence future product decisions.
The same can be said for marketers using PMDM. While they'd operate within a PMDM more than a PLM system, they could still view the way the product was developed to help understand all of the moving parts—ultimately breaking down the painful silos that exist today that are slowing down growth and profitability.
Overall, when you combine PLM and PMDM, you reduce errors, save money, and satisfy your customers' needs – and get closer to a 360-degree view into your products.
The Process: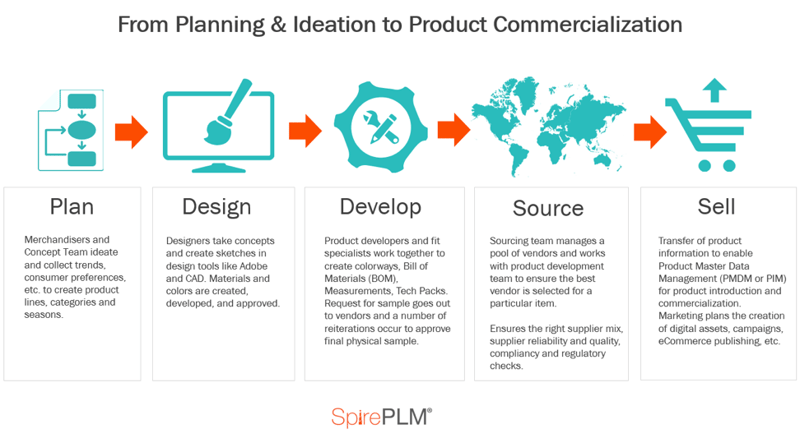 The Solution: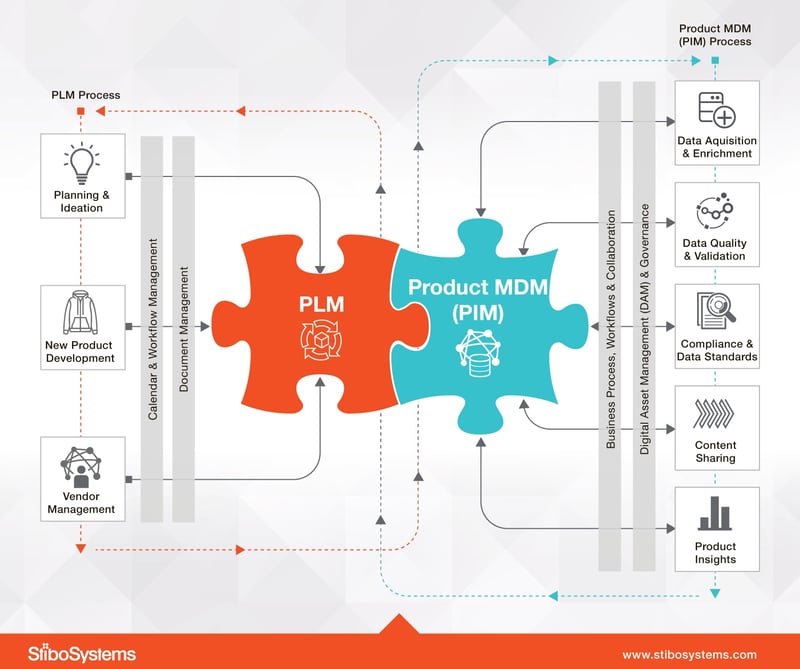 Learn More: