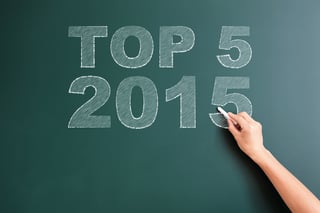 With 2015 coming to a close we are recapping our top 5 blog posts for the year. Each post was selected from our readers and covers topics within Master Data Management ranging from; time-to-market, Product Information Management, Food labeling, and creating a strategic road map for an MDM initiative.
#5 Food Labels Matter: Using Accurate Product and Nutrition Information to Protect Consumers - With food allergies on the rise and consumers becoming more conscious about nutrition and where their food is sourced, accurate food labeling is more important than ever. Click Here to Read More...
#4 The Benefits of Multidomain Master Data Management (MDM) - Siloed data within an organization is a chief complaint among enterprises today. Multidomain Master Data Management (MDM) offers these organizations the ability to integrate and analyze disparate data assets (i.e. customer data, product data, supplier records, etc.) no matter where the information resides within different business units or departments. Click Here to Read More...
#3 Be Fast or Die Slow - We have heard it over and over again: Efficient and agile enterprises tend to come out on top. But what determines whether a business is fast and flexible enough? In this blog post we will take a look at one of the main elements in an effective enterprise dealing with products; time-to-market. Why is it so important and how can Master Data Management for products help?Click Here to Read More...
#2 Top 10 Signs That you May Need to Invest in PIM - The amount of product data that companies create and store has increased exponentially in the last decade. What's more, customers today demand and expect personalized and quickly accessible product information. To solve these issues, many companies adopt Product Information Management (PIM) solutions. PIM acts as a central hub for all product data to provide consistent and accurate views of product information. The benefits of using PIM are many, but how do you know you should undertake that kind of investment? Click Here to Read More...
#1 Creating a Strategic Roadmap: the End-to-End Process - This post discusses the Strategic Roadmap phase when working through a Master Data Management strategy and data governance initiative. We take you on a step by step journey through each phase. In the Strategic Roadmap phase, business and IT people work together in a facilitated workshop format. They jointly review the current state, and then envision where the company wants to be (that is, the future state), and over what time period. Click Here to Read More...
We are excited for what's on the horizon in 2016. We will be sure to cover many topics surrounding Multidomain Master Data Management, Product Information Management, Data Governance, and so much more. On behalf of Stibo Systems, Have a Happy New Year!