You're familiar with the buzz terminology: mobile-first, digital transformation, omnichannel, customer centric and likely many more. While each has a discrete definition, a common thread ties them all together - they're all ways that businesses are changing themselves to better serve rapidly evolving customer needs and expectations. The implications for this type of change is clear, if you don't change the way you do business, and do it as quickly as possible, you may fall so far behind that it will become impossible to recover.
There is perhaps nowhere better to witness this digital arms race up close than the world of brands and retailing. Industry research firm L2 recently published its 2016 Digital IQ Index: Food. The report evaluated 126 food manufacturers in the US and quantified their digital competence in a number of areas, including website and ecommerce efforts, digital marketing, social media, and mobile accessibility. L2 identifies the top tier of companies based on this methodology and anoints them Geniuses. You can download a free excerpt of their report here.
STEP Users = Geniuses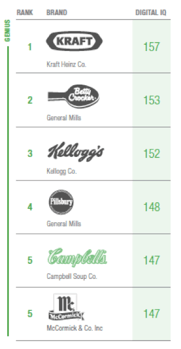 L2's top rated Genius this year was KraftHeinz, a Stibo Systems client. Here's what L2's Scott Galloway said about their digital efforts:
"Kraft rises to the number one spot in this year's Digital IQ Index: Food, boasting a recipe site with shopping list functionality and local offers on subsidiary brands' products, strong visibility across brand and category searches, and aggressive advertising on mobile, desktop and video platforms."
In fact, four of the top five "Genius" brands rated in L2's Digital IQ report have partnered with Stibo Systems to centralize product information across their organizations and feed consumer-facing systems. There is no doubt that KraftHeinz, General Mills, Kellogg's, and McCormick's are all examples of companies that are successfully transforming themselves digitally. But hyperbolic blog headline aside - as any data professional understands, correlation is not causation. So while we are extremely proud of our customers' ranking on this list, this is not to suggest that their selection of STEP is the sole reason for their domination of the digital genius rankings.
MDM Chicken or Digital Genius Egg?
But it did get me thinking: does a holistic data management strategy and execution beget digital transformation, or vice versa? The truth, as always, is most likely in-between. But I believe it's far closer to the latter than the former. That is, the companies having the most success digitally are prioritizing those types of initiatives (such as enterprise MDM) in order to make significant in-roads on their rapidly transforming industries. There are likely a variety of factors that contribute to this —existing internal culture, strategic planning, and investment all among them. But there's no doubt that adopting a customer-first digital mindset is a critical step toward transforming into digital enterprise.
Consumers are now unquestionably in the driver's seat. And for many of the businesses we work with, tackling this challenge has started by placing a strategic importance on master data management. In fact, in a recent survey of our European clients, more than three-quarters of them said that "Improving customer experience" was the main driver for beginning their digital transformation. Additionally, more than two-thirds of them considered the role of effective data management to be a key part of improving business processes through digital transformation.
So while MDM can serve as a critical foundation to any [insert any of the buzz terms from the first sentence here] initiative…thinking digitally, understanding your industry's landscape and making strategic decisions in service of your customers…that's the real genius.