Recently, with the explosive growth of online shopping and ecommerce, you may have heard some say retail is dead or dying. You may have even read a blog predicting this. But if, like me, you attended ShopTalk in Las Vegas, you know those predictions were wrong.
More than 8,000 attendees filled the Venetian Hotel and Convention Center to learn and talk about the state of retail – what's working and what isn't, as well as new trends, challenges and solutions. With recent news of some of the biggest brands in the world filing bankruptcy or shutting their doors, it wasn't surprising to see so many top retailers collaborating to discuss ways to avoid meeting that same fate.
While in attendance, I noticed there were three subjects that almost every session mentioned:
Data
Customer intelligence
Personaliztion
Evolving customer demands and expectations are forcing retailers to transform their businesses. They're turning to data, from product to supplier, omnichannel, vendor and more, to improve how to determine what products to sell and how to engage with customers on their terms. Retailers are also looking to gain more deep insights about consumers using hyper-focused and complete customer intelligence, which includes information such as behaviors and preferences. This improves the ability to market, sell and communicate effectively with customers.
Far and away, I heard the topic of personalization the most – whether it be personalization for building brand awareness, customer support, marketing, sales and product and more. It seemed like no topic was off limits to the personalization discussion. Over the course of three days it became clear that if retailers can't deliver a personalized (and relatable) experience to consumers, they won't get the required attention and loyalty to succeed in the modern marketplace.
In-store experiences still matter
The future of retail isn't just online. Creating optimal in-store experiences is vital to a store's ability to thrive in this new era of retail. Although trends show online and mobile spending increases year after year, in-store is still the global preference for shopping. It is extremely close, though, and according to some predictions, spending trends will be reversed by 2021. The important takeaway is to think how both play into the customer journey.
There are two types of shoppers that retail companies need to pay attention to: the shopper that browses online and on mobile devices before they buy, and the buyer who uses the retail store as a "showroom" for browsing before they buy. Remember both when building your strategy.
The new "flagship" store is ecommerce
Gap and Lord & Taylor are just a couple of retailers who announced they were shutting their flagship stores recently in order to rebound from dropping sales. Ecommerce sites have become the new way to showcase the entire line of products that retailers have to offer.
The traditional instore model involved retailers displaying a few select items in the storefront as well as cherry-picking what else to include on the showroom floor. On an ecommerce site, retailers can customize home pages and items that seen by the buyer based on their preferences. Retailers display what the customer wants based on their previous behavior, personalizing content and providing a superior, one-to-one experience. They showcase recommended and recently viewed items – something that cannot be done in-store.
Data-driven retail and personalization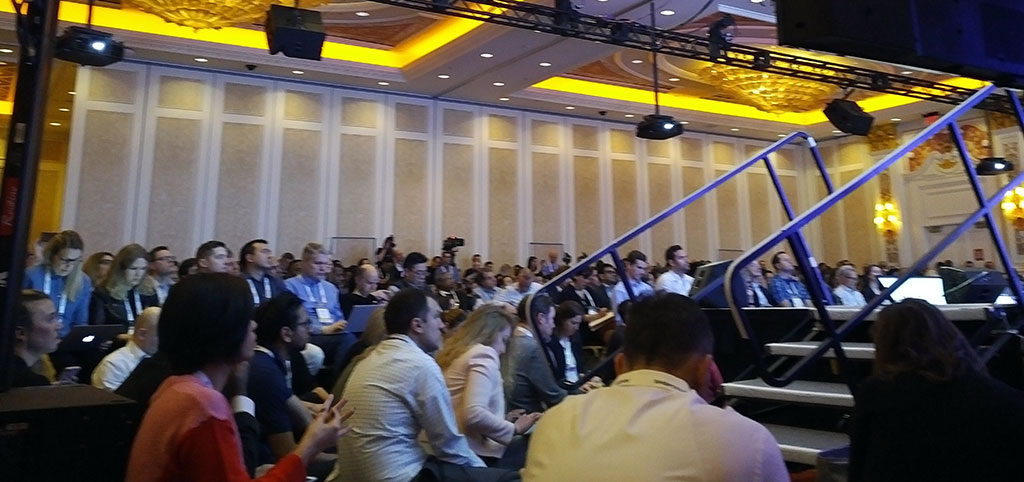 Monday's personalization session was standing-room only. Dozens of people sat on the floor (self-included), and at least 50 stood in the back of the room, which shows how important personalization is as a topic for retailers.
Speaker Emre Baran, Co-Founder & CTO, Qubit, emphasized the importance of data connectivity and data quality as a foundation for personalization. Baran discussed the details, including the benefits of synching data from ERP and other systems so that you have a well-rounded view of a customer. He was spot on. If you're looking at just ERP data or just CRM data, then you're looking at siloed sets that are likely inaccurate, inconsistent and incomplete. Sarah Engel, VP, Marketing & Creative Communications, Lilly Pulitzer, continued the same message by reiterating the importance of having clean, connected data across channels and the organization.
Today's version of personalization is a retailer's ability to predict who is going to shop, what they want to buy, and why. Achieving modern personalization requires quality data. If you're only looking at one set of data about a customer, it's only going to give you one view of what is relevant to them. And if your data is flawed, you'll find flaws in your segmentation.
So what's the takeaway for you?
If you're a retailer reading this, there are several takeaways that should give you optimism for the future. Retail is succeeding, and will continue to succeed, just using new business models that involve digital transformation for companies, personalized experiences for customers, as well as ecommerce, customer intelligence, instore and online strategy and more. Solutions are available now that give retailers of all sizes the tools to make this happen. The key is embracing digital transformation (a buzzword to some, but not to me) and data as a means to give customers what they want, which keeps them coming back to your store, whether it's online or onsite.
Learn more about how Stibo Systems supports retailers worldwide.