This blog post is a recap of John Radcliffe's webinar, hosted by Stibo Systems: "Revisiting Gartner's Seven Building Blocks of MDM: A Framework for Success". You can listen to the full on-demand version here.
Do you remember the story about Goldilocks? You know, the one about the little girl who walks into the three bears' house, eats their porridge, sits on their chairs and sleeps in their beds? You remember how she rejected the father and the mother bear's things and found the little bear's to be "just right"?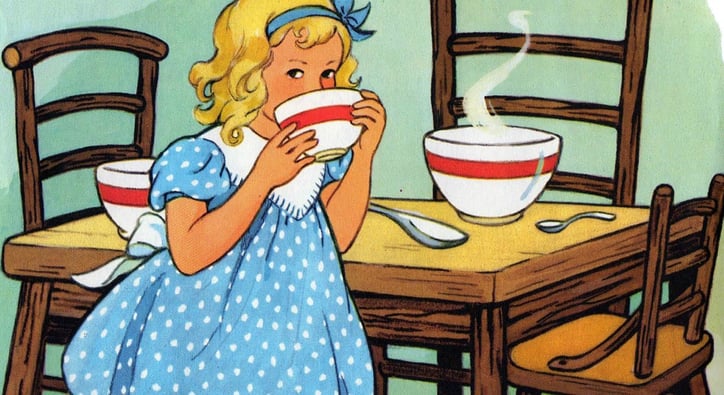 Image credit: http://sti.bo/2rYOIhG
Getting it "just right" is exactly what John Radcliffe's new Master Data Management building block is about. If you don't know the seven traditional MDM building blocks or need your memory refreshed, here's a short introduction:
1. MDM Vision: Create a MDM vision that corresponds to your business vision

2. MDM Strategy: Map out the MDM goals, the scope, and the journey to choose the right strategy

3. MDM Metrics: Quantify and demonstrate the business value of MDM using business metrics

4. MDM Governance: Create a Data Governance framework, involving all business levels

5. MDM Organization: Overcome cultural and change management issues with a common vision

6. MDM Processes: Understand and optimize the data lifecycle

7. MDM Technology Infrastructure: Leverage the right enabling technology
Master Data Management analyst, John Radcliffe, created the MDM best practice model, "The Seven Building Blocks of MDM: A Framework for Success," for Gartner almost ten years ago, and since then it has been a key part of Gartner's recommendations for MDM implementations, helping businesses succeed with MDM.
Gartner describes the model like this: "CDOs and data and analytics leaders need a framework to ensure that they approach master data management initiatives on a strategic, balanced, and integrated basis. Gartner's seven building blocks of MDM will lead to greater success, and enable these programs to maximize business benefits."
But recently John Radcliffe revisited the seven building blocks – and added an eighth block - in this one-hour webinar you can hear on-demand.
The new building block is the data building block:
8. MDM Data: Source, integrate, and deliver the right master data
This building block is about where you focus your efforts. But how do you know which master data to focus on first?
John Radcliffe uses Gartner's definition of master data: "Master data is the consistent and uniform set of identifiers and extended attributes that describe the core entities of the enterprise." The core entities can differ from business to business. They can be parties – like suppliers, customers, citizens, or maybe patients. They can be things – products, assets, or maybe sensors if you work with IoT data. Or they can be places – locations, such as stores or warehouses.
These are, according to Radcliffe, the most important data you hold in your business, as the master data "is the glue that binds all data and systems together."
Getting that right and making it available in one central place, can potentially have very big impact in terms of achieving consistency and improving processes and analytics across the organization. It also poses a challenge since so many different people will have different interests in that data. People have their own ideas about what should be done with the data, and why and how it should be done. You need a framework to help make those tough choices.
This is where John Radcliffe uses the 'Goldilocks' principle about getting it 'just right':
"Choose your master data battles carefully. It's about getting the right amount of data you want to focus on. About getting it 'just right'. And very often, less will be more. If you grasp over too much, it will probably fail," he explains.
So, there you have it. The new building block of MDM: Choose which master data battles you'll fight (first) and decide why you're fighting them, and then build your program up step-by-step, considering that different parts of the organization will need different master data.